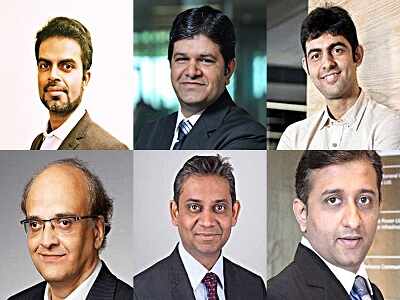 Long gone are the days when technology was just a part of business. Today, it has become the backbone for enterprises. With most CIOs grappling with increased expectations from the top management, it has become imperative for them to not only stay updated with technical know-how but also get a grip on how different SBUs (Strategic Business Units) function.
ETCIO spoke to 6 top CIOs to find out their thoughts on business and technology.
Here's what they had to say:
Anand Thakur, CDO, Jubilant Foodworks

"Revenue focus! As a CDO and a tech architect, I am often tempted to build from scratch, but the cost of opportunity must be considered when making this decision. One should always evaluate the build vs buy options with a revenue impact in mind and take a decision accordingly"
Neeraj Goyal, Head of Technology, RBS India

"CIOs should learn customer centricity. It is extremely important to keep the focus on customer centricity to ensure customer's perspective is kept above everything else. Only then should CIOs go ahead with the design to simplify things for customers."
Vineet Bhardwaj, Head-IT, Godrej Properties

"Focus should be on business objectives and how an idea will add business value. We need to keep looking at technologies but also need to be tactical on the organisation's needs.
It is important to understand that technology works as an enabler and not as a hurdle. The one thing that CIOs should understand is that technology supports business and it is not the other way round. Keeping the core business in mind, the entire technology has to solely focus on the requirement of the business."
Vikal Sahni, CTO, Goibibo

"Businesses are driven by core KPIs and metrics and often, technology experts lose sight of these metrics in order to drive innovation. And that is where the secret lies. Go back to the drawing board every time you think of a new technology or solution; think if it helps you reach your pre-decided goal. To summarize, it's not about building a great solution or technology. Instead, it's about investing in the right technology that solves your customers' problems."
Nataranjan Radhakrishnan, CIO, HGS

"The one thing that business teaches us to look at the returns of a certain investment. All IT decisions must be backed by a business case and ROI analysis. Even technology upgrade projects should be supported by identifying business benefits — both pre and post projects. Also, there should be the ability to change or shift gears quickly while actually delivering a solution."
Rupesh Mehta, CTO, Reliance Health Insurance
"Learning and understanding the epicentre of a business ecosystem should be the focus. Understanding a business could be difficult, thereby making it important for a CIO to invest good time in understanding the technical aspects of it. Having switched through different sectors, one thing that I have learned is that you need to quickly start rolling the ball, it is your interest and curiosity that will help in quick adoption."
["source=cio"]